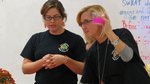 Mrs. Buck and Mrs. Lowery demonstrate an experiment
Evans Elementary played host to Family Science Night. Students rotated to different classrooms to duplicate and create exciting science experiments. The P.T.O. provided a pizza dinner and students also visited the Book Fair.
Science teachers Emily Buck and Joy Lowery demonstrate a science experiment.